Our History
In April 2009, Lance Trippett and Kail Bosque opened BJJ Conquest in Gambrills, Maryland. Starting with a small following of only about a dozen students, Lance and Kail taught Brazilian Jiu Jitsu three days a week from the back of a Tae Kwon Do school. After tripling in size to over 30 students, the two recruited Nate Grebb in April 2010 as a third owner and moved to their own site in Crofton, Maryland. Since 2010 BJJ Conquest has grown exponentially, expanding the schedule with multiple classes in multiple programs, every day of the week. In May of 2012 Conquest upgraded to a state of the art training facility in Millersville, Maryland and now has the world-class facility to match the world-class instruction found at the Academy. BJJ, MMA, Boxing, Muay Thai, physical fitness, and Yoga classes are available to students of all ages. Shortly after the move, Conquest was introduced to Professor Vicente Junior who they quickly recruited to be the head BJJ instructor. VJ's depth of knowledge and international experience took Conquest's programs to the next level. Conquest continues to grow at a rapid pace and has since expanded the Millersville location and opened up a second location is Pasadena.
Mission Statement
Whether your goal is self-defense, self-discipline, physical fitness, or competition, BJJ Conquest provides an ideal training environment for every student. We pride ourselves on the highest level of professional instruction and safety. Train your mind, body, and spirit. Brazilian Jiu Jitsu, a way of life.
History of Brazilian Jiu Jitsu
Some historians of Jiu-Jitsu say that the origins of "the gentle art" can be traced back to India, where it was practiced by Buddhist Monks. Concerned with self-defense, these monks created techniques based upon principles of balance and leverage, and a system of manipulating the body in a manner where one could avoid relying upon strength or weapons. With the expansion of Buddhism, Jiu-Jitsu spread from Southeast Asia to China, finally arriving in Japan where it developed and gained further popularity.
In the last days of the 19th century, some Jiu-Jitsu masters emigrated from Japan to other continents, teaching the martial arts as well as taking part in fights and competitions.
Esai Maeda Koma, also known as "Conde Koma," was one such master. After traveling with a troupe which fought in various countries in Europe and the Americas, Koma arrived in Brazil in 1915, and settled in Belem do Para the next year, where he met a man named Gastao Gracie.
The father of eight children, among them five boys and three girls, Gastao became a Jiu-Jitsu enthusiast and brought his oldest son, Carlos, to learn from the Japanese master.
For a naturally frail fifteen-year old Carlos Gracie, Jiu-Jitsu became a method not simply for fighting, but for personal improvement. At nineteen, he moved to Rio de Janeiro with his family and began teaching and fighting. In his travels, Carlos would teach classes, and also proved the efficiency of the art by beating opponents who were physically stronger. In 1925, he returned to Rio and opened the first school, known as the "Academia Gracie de Jiu-Jitsu." Since then, Carlos started to share his knowledge with his brothers, adapting and refining the techniques to the naturally weaker characteristics of his family. Carlos also taught them his philosophies of life and his concepts of natural nutrition. Eventually, Carlos became a pioneer in creating a special diet for athletes, "the Gracie diet," which transformed Jiu-Jitsu into a term synonymous with health.
Having created an efficient self-defense system, Carlos Gracie saw in the art a way to become a man who was more tolerant, respectful, and self-confident. With a goal of proving Jiu-Jitsu's superiority over other martial arts, Carlos challenged the greatest fighters of his time. He also managed the fighting careers of his brothers. Because they were fighting and defeating opponents fifty or sixty pounds heavier, the Gracies quickly gained recognition and prestige.
Attracted to the new market which was opened around Jiu-Jitsu, many Japanese practitioners came to Rio, but none were able to establish schools as successful as the Gracies. This was due to the fact that the Japanese stylists were more focused on takedowns and throws, and the Jiu-Jitsu the Gracies practiced had more sophisticated ground fighting and submission techniques. Carlos and his brothers changed and adapted the techniques in such a way that it completely altered the complexion of the international Jiu-Jitsu principles. These techniques were so distinctive to Carlos and his brothers that the sport became attached to a national identity, and is now commonly known as "Brazilian Jiu-Jitsu," practiced by martial artists all over the world, including Japan.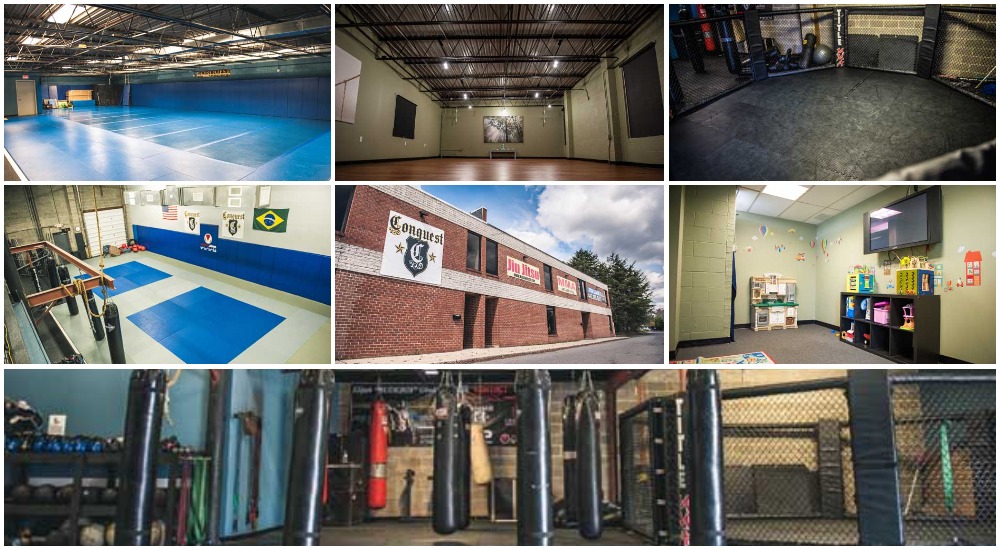 BJJ Conquest - Millersvile
Conquest Millersville is our Headquarters located at 311 Serendipity Drive in Millersville, Maryland. If you travel on I-97 you've probably seen us. Just look for the big Conquest and yellow banners. We're right off Exit 10. Our facility is equipped to meet the needs of everyone from the beginner just getting started to most advanced professional. Some of our facility's features include:
Over 8000 sqft of training space
Full Mixed Martial Arts cage
Stand alone heated Yoga studio
Weight-lifting, cardio, and heavybag equipment
Full Sauna
Men and women locker rooms w/ shower
Three restrooms
Large lobby with a viewing window and big screen video of all training areas
Two dedicated mat rooms
Complimentary WIFI access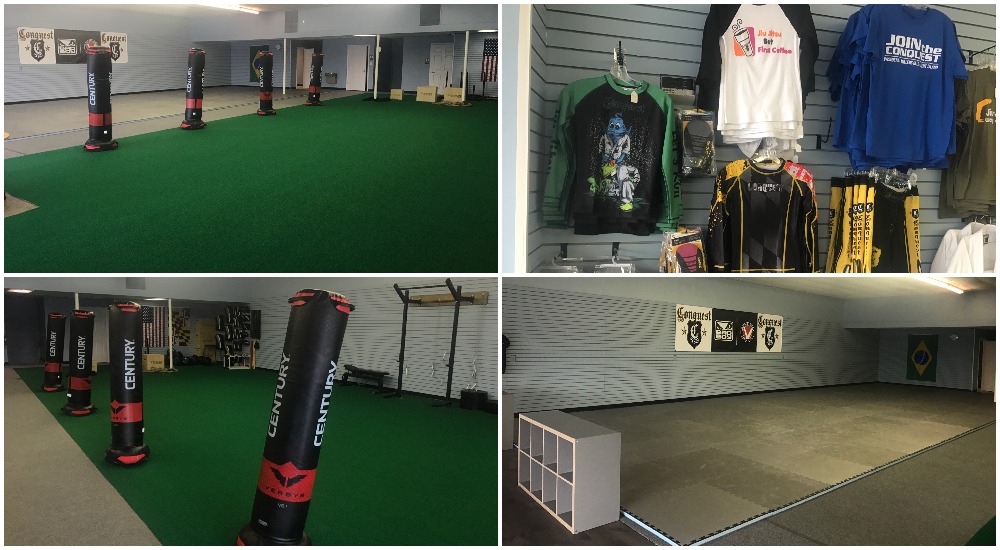 BJJ Conquest - Pasadena
Our newest location can be found at Pine Grove Village Shopping Center, 8579 Fort Smallwood Road in Riviera Beach. The facility has four individual training rooms, the largest spanning over 3000 sqft with a turf surface for Fight Fit and MMA conditioning, a large lobby viewing area w/ proshop and much more. Conquest Pasadena is now fully open and operational. Upon completion the gym will be large as our Millersville location. Some specific features include:
Over 3000 sqft of training space w/ another 3500 coming soon
Weight-lifting, cardio, and heavybag equipment
New, high quality turf surface
Individual Men and women locker rooms
Two restrooms
Open lobby are directly next to the mats
Pro-shop
Complimentary WIFI access
Areas We Serve:
We are proud to serve the following communities -
Near Millersville: Severna Park, Gambrills, Crofton, Severn, Fort Meade, Odenton, Arnold, Annapolis
Near Pasadena (Riviera Beach): Glen Burnie, Curtis Bay, Brooklyn, Brooklyn Park