Our Fitness Kickboxing Classes Are The Best Workout in Millersville & Severna Park!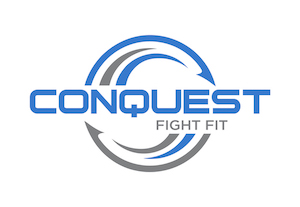 If you're tired of the same boring gym routine, our kickboxing classes at Conquest Martial Arts & Fitness can help you get the workout you deserve in a fun, high-energy setting!
As part of our commitment to our Millersville and surrounding communities, we're bringing accessible fitness and martial arts classes to anyone who wants to get real results. Kickboxing is a great way to get your heart rate up and lose weight while simultaneously building lean muscle and learning the fundamentals of self-defense... and you'll connect with new friends from all over Millersville and Severna Park while you train!
This hour long class is a non stop workout that burns calories and is guaranteed to make you sweat. If you want to train like a fighter but not get punched in the face while doing it, then this is the class for you. We take the same cardio training techniques used by professional MMA fighters and combine them into an intense workout guaranteed to shed the pounds and get you in shape. There is no denying combat sports professionals are in peak physical condition and represent some of the most fit athletes in the world. Classes are taught by professional MMA fighters and certified coaches who are dedicated to helping you achieve your goals. Our coaches live what they teach, so you know it works. Our Fight Fit program has been ongoing since October 2012, and we have received great reviews from all our students.
Just fill out the short form below to learn more about our incredible kickboxing classes!
Kickboxing Will Get You REAL Results!
No matter whether it's your first time stepping into the gym or if you're a veteran of hundreds of fitness classes, our kickboxing program at Conquest Martial Arts & Fitness will give you the workout you need to get the results you want. We're helping ordinary people from all over Millersville and Severna Park work towards that slim, chiseled look.
Kickboxing classes offer a host of benefits, from helping you lose weight to offering reduced stress and getting you boosted energy levels in your everyday life. Conquest's program also offers tons of extras including MyZone heart rate monitoring, InBody body composition scanning, a customized fitness app, routine fitness challenges, discounted supplements, at-home workouts, accountability coaching, and much more! Get started with your training and see for yourself the big impact that kickboxing classes can have on your life!
Through our kickboxing classes, you'll gain:
Healthy, sustainable weight loss
Lean muscle growth and a powerful core
Reduced stress and better sleep
The motivation and accountability of our community
Our team at Conquest Martial Arts & Fitness is committed to helping you get results. That's why our kickboxing classes are designed with scalable, effective workouts -- so that no matter whether it's your first time training or your thousandth, you'll still enjoy a great workout at Millersville and Severna Park's ultimate fitness destination.
Begin Your Journey at Conquest Martial Arts & Fitness Today!
If you're tired of hitting the gym solo and struggling to get results, our kickboxing classes will help you cut through the noise and get a workout that works as hard as you do. Get the motivation and accountability that comes with working out alongside other dedicated people from across Millersville and Maryland and start seeing the results you crave!
Just fill out the short form below to get started with kickboxing classes!