Refuel Your Body With Our Yoga Classes In Millersville & Severna Park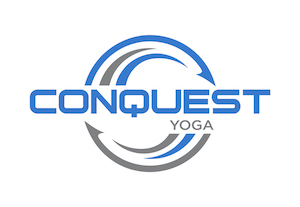 Sometimes your body needs a break. Make it happen with our Yoga Classes at Conquest Martial Arts & Fitness.
If you're hoping to see real results from your workouts, rest and recovery can be just as important as your training, and we're proud to offer you a way to actively recover while boosting your flexibility and finding an inner peace.
Our Yoga Classes in Millersville and Severna Park are the best way to cap a long week of workouts and escape the stresses of everyday life.


Make Yoga Part Of Your Normal Routine
You'd be shocked at how much regular Yoga training can benefit your body. And with the help of our trained professionals, you'll learn how to master every move in order to get the most out of each and every Yoga session.
We're proud to offer several different yoga classes:
---

VINYASA YOGA – SLIGHTLY HEATED ROOM 85-95 DEGREES
A discipline that utilizes both postures and breathing techniques. This form of Yoga offers a range of health benefits to those who practice it and encompasses all areas of mind, body and spirit. Routine practice of Vinyasa Yoga can increase muscle strength, endurance, flexibility, and reduce levels of stress. Vinyasa yoga offers much diversity. The pace can vary and there is no one particular sequence that instructors must follow. In fact, the name Vinyasa is a Sanskrit word that translates to "variations within parameters." This flexibility allows our instructors to make each class unique and challenging in different ways.
BUTI® YOGA – SLIGHTLY HEATED ROOM 85-95 DEGREES
BUTI® Yoga is a movement methodology that incorporates dynamic yoga asana with primal movement, cardio dance bursts, & deep core conditioning. Created by Celebrity Trainer Bizzie Gold, BUTI® Yoga utilizes the Spiral Structure Technique to sculpt + tone the deep abdominal muscles that stabilize and strengthen the body. Instead of linear movements, BUTI® favors movements that challenge the body along all planes of motion – THE RESULT – long, lean muscle.
POWER YOGA – SLIGHTLY HEATED ROOM 85-95 DEGREES
Power Yoga is an athletic, dynamic, and fitness-based Vinyasa yoga practice. This physical practice builds internal heat by synchronizing movement with breath to increase stamina, flexibility, and strength while promoting mindfulness on and off the mat.
YIN YOGA
Yin Yoga targets the connective tissues, such as the ligaments and joints, and fascia by holding static poses for several minutes. While this style can initially seem quite passive, a yin practice can feel challenging due to the long duration of the poses. Yin Yoga is the perfect complement to more rigorous forms of yoga or other exercise programs.
---

All classes are beginner-friendly. The Conquest Yoga program is growing quickly and we are always offering workshops for children, athletes, seniors, and much more.
Start Your Yoga Training Today And See How Real The Results Can Be
Are you ready to take your training to the next level? Then join us at Conquest Martial Arts & Fitness for the best Yoga Classes in Millersville and Severna Park. Your body will feel more rested and strengthened than ever before, helping you get more out of the rest of your week.
Get started today by filling out the short form on your screen now! We'll be happy to answer all of your questions right away.